Sundays
Worship Hour / First Hour
9:00 am – 10:30 am
Worship– sanctuary (loud singing, great messages)
Nursery – education building room #102
Jr Children's Church – education building room #101
Big Church – sanctuary, dismissed to education building room #105 after offering song
Youth Group – sanctuary
Fellowship & Refreshments
10:30 am – 11:15 am
Equip Hour & Sunday School / Second Hour
11:15 am – 12:15 pm
We offer adult training tracks from Theology & History to Biblical Counseling. Click here for more info.
1st Sunday
12:15 pm Lunch
1:30 pm Family Service
A meal together followed by an all family service in the sanctuary that emphasizes corporate worship, sharing, and prayer.
3rd Sunday
12:15 pm Lunch
1:30 pm Hero Time
Children K-5 and helpers will be dismissed to the sanctuary for Hero Time: Teaching Big Truths to Young Hearts Through the Heroes of the Faith. Essentially, there will be a time of singing, a short devotional related to a hero of the faith, followed by a skit or video presentation by the youth group. The rest of the time will consist of games, and other interactive activities.
5th Sunday
12:15 pm Lunch
1:30 pm Member's Meeting
Fellowship lunch for all. Quarterly Member's Meetings in the sanctuary often fall on the this Sunday which would begin following lunch
Ministry Room Assignments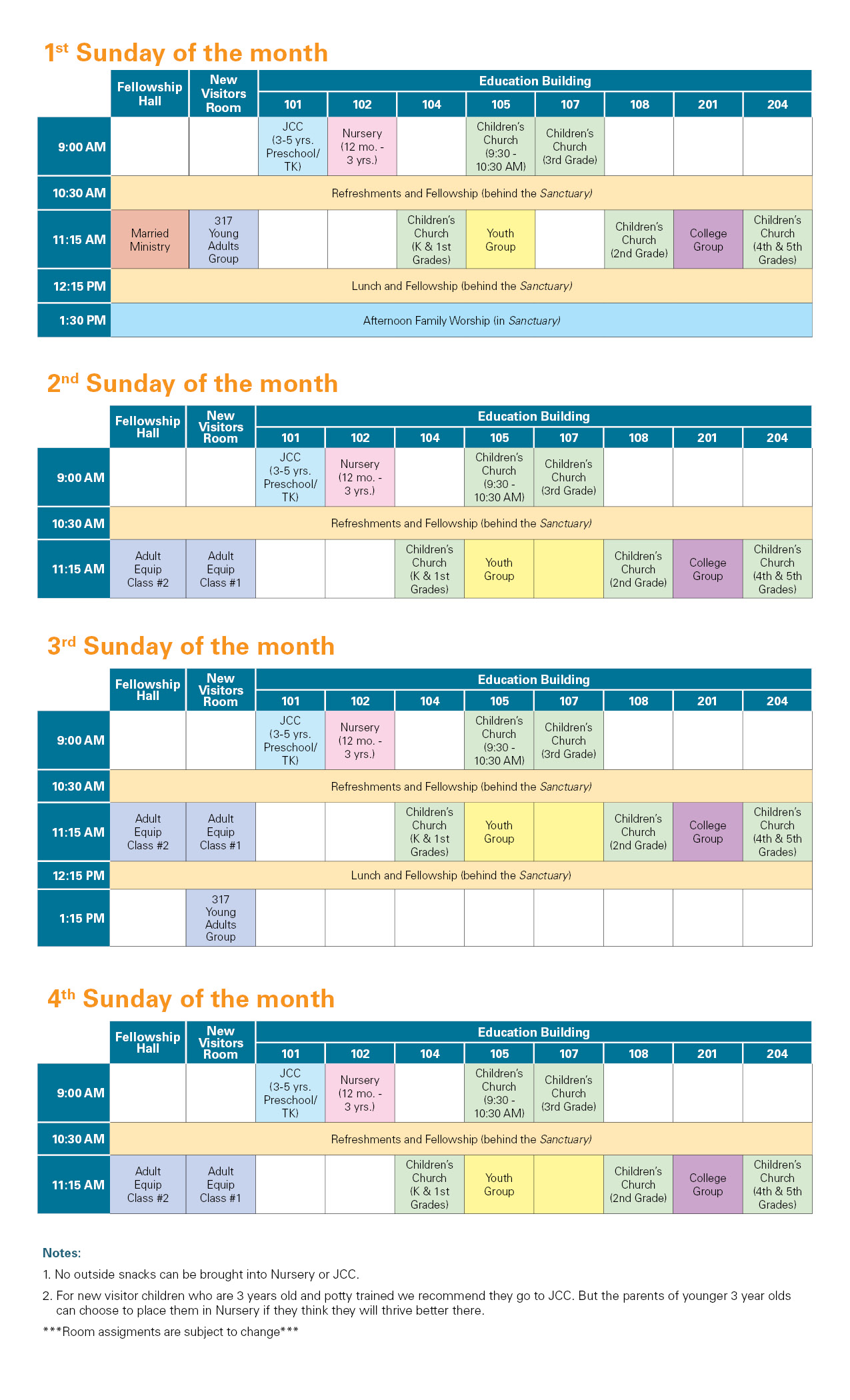 Education Building Layout